It's been two decades since gas leaked from an underground pipeline into Whatcom Creek in Bellingham, accidentally igniting and killing Wade King and Stephen Tsiorvas, both 10, and Liam Wood, 18.
The dramatic explosion and tragic deaths forever changed the lives of the King, Tsiorvas and Wood families and left indelible memories in the minds of community members and thousands of others across the Northwest.
As The Bellingham Herald recently reported in comprehensive coverage marking the 20th anniversary of the accident, the tragedy changed the trajectory of oil pipeline safety in our state, making Washington a leader in prevention and regulation. This, thanks in large part to commitment from families, lawmakers and advocates to increase pressure on local and federal agencies to ensure strict systemic safety protocols.
The explosion was one of many "significant" pipeline incidents that have happened across the United States over the past 20 years, according to the Pipeline Hazardous Materials Safety Administration. From 1999 through 2018, there were 5,708 such incidents, which killed 291 people and injured 1,267. In Washington state, the rates have been lower, with nine serious incidents and one fatality since 2000.
Back in 1999, our founder Paul Luvera, partners David Beninger and Joel Cunningham and the entire Luvera Law Firm team were honored to represent the King and Tsivoras families in their $75 million wrongful death and personal injury settlement with Olympic Pipe Line. (In fact, a young David Beninger can even be seen here, leaving the courtroom after advocating on behalf of the families.)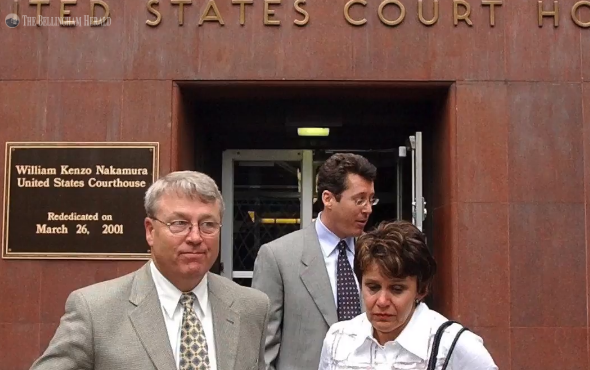 The Whatcom Creek explosion was tragic and preventable; it resulted from a defect overlooked by Olympic Pipe Line in the absence of routine testing. At the time of the pipeline rupture, King and Tsivoras had been playing by the creek. The boys later succumbed to their injuries after the fuel ignited, sending a fireball skyward. Wood, who was fly fishing, was engulfed by fumes and drowned.
With the help of the King and Tsivoras families, we outlined the grave missteps of Olympic Pipe Line and brought decision-makers to justice. This monumental settlement played an important part in driving the large-scale change that has led to Washington's increased performance in pipeline safety. The movement toward safer practices has continued with new initiatives such as the Pipeline Safety Act and a program that encourages citizens to call 811 before they dig.
We are proud of that our work to uncover truth has contributed to greater accountability and helped make our communities safer. Though the Whatcom pipeline tragedy cannot be mended by the settlement, we know how important it is to bring to light the failure of large institutions and demand change for the safety of all.